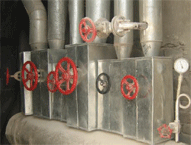 Insulated steam valves
"This energy audit has opened our eyes to new and innovative avenues of energy efficiency. We have already conserved a lot of energy"
Mr. Sheikh Tariq Mahmood Director, Combined Fabrics
ESPIRE is a partnership project between bfz gGmbH, Business associations, and SMEDA.
By partnering with ESPIREenergy, industries are leveraging their own efforts to save energy and thus reduce costs, by adopting the following three services:
External

Energy Audit (EA)

for status quo analysis of energy consumption and recommendations for energy saving measures
Installation of

Energy Information System (EIS)

for continuous measurement and monitoring of energy consumption and costs
Implementation of

Energy Management System (EnMS)

in the factories for continuous control and reduction of energy consumption and costs with own staff.
Background
M/s Combined Fabrics Pvt. Ltd. is a WRAP certified vertically integrated Knit Apparel Manufacturing Unit situated in Lahore, Pakistan. The company produces international standard apparel for international buyers. The average electricity consumption of the company is 1000 kW per Hour and steam generation capacity of 12 Tons per Hour.
ESPIRE Intervention
In October 2011, Mr. Sheikh Tariq Mahmood, Director, decided to avail services offered by ESPIREenergy (see description on the left).
Through Energy Audit 28 energy conservation measures were identified with an annual energy saving potential of 6.1 Million PKR.
An Energy Information Software was installed, an Energy Management System developed and an Energy Team formed and trained to monitor and improve energy use without external support.
For 6 months the consultant assigned by ESPIREenergy monitored and supported implementation, documented the progress and quantified the realized cost savings.
Achievements
Combined Fabrics implemented 7 improvement measures identified during Energy Audit within 6 months which resulted in annual energy savings of 2.35 Million PKR with an investment of only 0.62 Million PKR and a 3.2 months payback time.
The company has established an Energy Policy with clear goals and objectives for improving the energy efficiency. An Energy Team; led by the Director himself; has been developed which continuously monitors the energy performance.
In addition to saving potential identified from the Energy Audit, the Energy Team of Combined Fabrics improved their hot water system resulting in energy savings of 2.3. Million PKR.