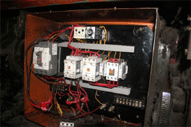 Star-delta drive installed on Ring Frame
"We started with implementation of first energy measure right after the Energy Audit. The results were so convincing that we duplicated the measure on other machines." Mr. Muhammad Irfan
Director, Asli Pari
ESPIRE is a partnership project between bfz gGmbH, Business associations, and SMEDA.
By partnering with ESPIREenergy, industries are leveraging their own efforts to save energy and thus reduce costs, by adopting the following three services:
External Energy Audit (EA) for status quo analysis of energy consumption and recommendations for energy saving measures
Installation of

Energy Information System (EIS)

for continuous measurement and monitoring of energy consumption and costs
Implementation of

Energy Management System (EnMS)

in the factories for continuous control and reduction of energy consumption and costs with own staff.
Background
M/s Asli Pari is a textile processing unit situated in Federeal B. Industrial Area, Karachi, Pakistan. The company produces international standard sewing threads (cotton and polyester) for local market.
ESPIRE Intervention
In November 2011, Mr. Muhammad Irfan, Director Asli Pari, decided to avail services offered by ESPIREenergy (see description on the left).
Through Energy Audit 15 energy conservation measures were identified with an annual energy saving potential of 3.8 Million PKR.
An Energy Information Software was installed to enable the company to continuously monitor its energy consumption and costs.
An Energy Team was formed and trained and an Energy Management System developed to enable the company to reduce its energy consumption further without external support.
For 6 months the consultant assigned by ESPIREenergy monitored and supported implementation, documented the progress and quantified the realized cost savings.
Achievements
Asli Pari implemented 6 improvement measures within 6 months which resulted in annual energy savings of 2.75 Million PKR with an investment of only 0.58 Million PKR and a 2.5 months payback time.
To further improve the energy efficiency Asli Pari has developed an Energy Policy and developed an energy team which is monitoring energy consumption and implementing energy saving measures without external support.